Designer: Daniel Clark, Tim Uren
Artists: Anders Finér, Héctor Ortiz
Publisher: Fantasy Flight Games
Players: 1-8
Playing time: 240 minutes
Age range: 12+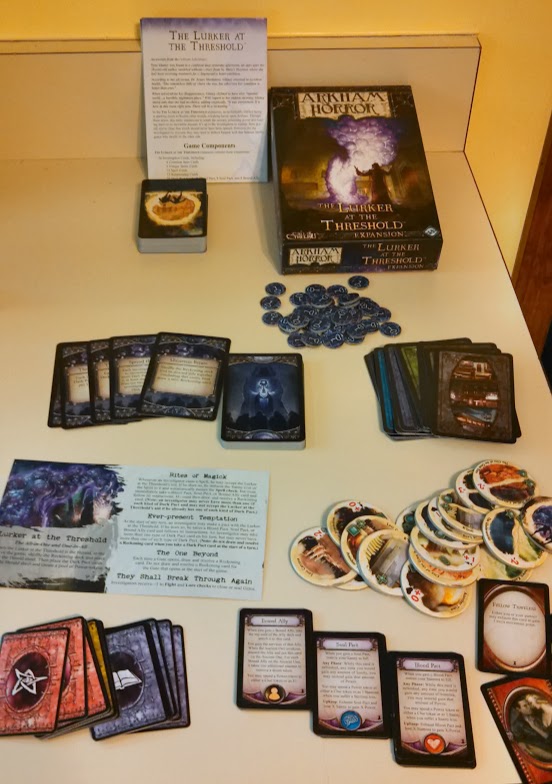 We've played a lot of Arkham Horror in our day. At one point, we were playing it at least once a month, or perhaps more. So it's only natural that eventually we got sick of it. It's since been relegated to special occasions, and only then with a handful of players to keep it from bogging down too much. Hence when a friend gave us a copy of The Lurker at the Threshold Expansion when it first came out, we just never got around to playing it. Until this past game night, when we brought up Arkham Horror to celebrate Halloween, and tossed this in to see how it plays. The theme of this expansion is that there is a mysterious eldrich being that is opening gates to other worlds, and offering power with a terrible price.

In describing The Lurker at the Threshold, I'm going to assume you're familiar with Arkham Horror in general (if not, you can give my Halloween podcast a listen). For the most part, it's a standard small-box Arkham Horror expansion. There are some additional Mythos cards, which are fairly generic in their effects. The only nod to the theme is that some of them will open two gates instead of one, but without adding tokens to the Doom track. There are new Arkham Encounter and Other Worlds cards, which are also rather generic. And there are some new Common Items, Unique Items and Spells, most of which seem very powerful and cool.
The theme comes in with the new Gate Markers, Dark Pact Cards, Reckoning Cards, Power Tokens and of course the Lurker Herald. The Gate Markers replace the ones that come with the base game, with some additional markers for The Dunwich Horror and The Kingsport Horror expansions. They add two new elements to the game. First, some are split gates: they can take you to one of two Other Worlds, and closing this is subsequently more difficult. The remainder add an additional symbol to the gate which give it different behavior — some gates will do terrible things if to an investigator on it when it opens (e.g. devoured), some will do terrible things to an investigator when failing to close it (e.g. lost stamina), and some can move.
If the Gate markers convey the sense of gates opening unexpectedly, the Dark Pact cards, Reckoning cards, Power tokens and Lurker Herald work together to convey the "power at a terrible price." The Dark Pacts come in three types: one allows you to trade Sanity for Power (and use Power as either a clue token or gain Stamina), one allows you to trade Power for Stamina (and use Power correspondingly for Sanity), and the last allows you to gain an ally, until the Ancient One awakens (and use Power for money). When the Herald is active, you can choose to either invoke its help with spells and then take a Dark Pact, or you can just choose to take a Dark Pact at the beginning of your turn.
The Reckoning cards also come into play when the Lurker is active. These are drawn every time a Gate is opened, and represent the price for the Dark Pacts and Power tokens. In general, nasty things will happen to those with either a Dark Pact or Power — you might be devoured, or drawn through the nearest gate, or lose Stamina or Sanity. The other effect of the Lurker is to reduce the ability to close gates.
Finally, to balance the evil of the Lurker, there is a new deck of Relationship cards, one of which is drawn per player at the beginning of the game when you choose random items. This is played to your left, and represents the relationship between you and the player to your left. This grants you such niceties as gaining money, items or allies when your partner does, or gaining bonuses on certain checks. They are always good, never bad.
So with all of that, the core part of this expansion (the Herald et al.) left me a little flat. To be fair, we forgot and didn't turn over the Reckoning cards early on in the game, and later on we kept opening the same gates, or hitting sealed ones, so they didn't come up. But even so — since none us had Power or Dark Pacts — the effect would have been nothing. As far as that, I have to confess I've never understood the draw of accepting an evil card for a short-term power boost, just to pay the price later. Since there's nothing to force you to take such a card, most of us ignored them until we were close to wrapping up — and only then just to try them out. The only card I could find that forces you in that direction is one Reckoning card that gives Power to players with Spells. At one point I ran out of clue tokens, so I suppose it would have been nice to have the ability to generate Power and use them as clues, but nothing in the game felt urgent enough to cause me to want to do that. And on top of that, the new Mythos and Encounter cards, which can add a lot to the story part of the game, did almost nothing to contribute to the story of the Lurker (the one exception are the Mythos cards that open more than one gate).
Ironically, the optional parts of the game — the new Gate markers and Relationship cards — worked the best for me. The split Gates in particular were nice, and the Relationships give you more connection to other players without having to be in the same location. However, I'm not sure those alone are enough to buy this expansion. We might play with this one again, but we're more likely to play with one of the others instead.
Verdict: Neutral.